August 14, 2021

30K (18 mile) 3-person relay or 1-person 30K run
Start time 8:00
Ferry Road Park, 496 Park Avenue, North Bend, OR 97459
Members, your discount will appear at checkout.
Team captains will sign up and pay for the team.  Team members will register and join the team.
Race Description
This challenging course covers 30 kilometers (18.6 miles), from Ferry Road Park in North Bend through Coos Bay's waterfront finishing back at Ferry Road Park. Run the whole thing yourself or form a 3-person team and make it a run-cheer-athon.  The first leg is relatively flat, the second is moderately rolling, and the third is for your hill lover!  Note, prices listed are for the entire team.
Prices
Individual 30K: Club member $40. Non-member $55 through July 21. July 22-Race Day: $55 member/$70 Non-member
Team Relay 30K: $120 Per Team through July 21. July 22-Race Day: $150 Per Team
Sign up here 
Members, your discount will appear at checkout
Age Divisions for Individual 30K (both men and women): 14 and under, l5-18,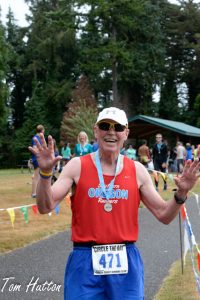 19-24, every 5 year, and 80+.
Relay Team Categories: All Men; All Women; and Mixed.
Relay Team Age: Grandmasters (50+); Masters (40+); Youth (<18); Open.
For no extra charge, a registered 30k individual participant may take the first leg on a relay team.
Information about the Start
Individual 30K and Relay team #1 runners start at 8:00 a.m. DOR registration and packet pick up are from 6:30 a.m. to 7:45 a.m. at Ferry Road Park. Runners should assemble at the starting line no later than 7:50 a.m.  Come dressed to run; no space is available for changing/showering.  There are plumbed toilets at the start/finish area and chemical toilets at the exchanges.
Amenities
Participants registered by July 21, 2019 receive a technical, T-shirt.
Participants, their fans, and all volunteers are invited to enjoy post-race food and beverages.  Locally crafted medals to be awarded to top finishers.
Water will be available at the exchanges, approximately every 6 miles.
Volunteers
This event has the best volunteers in the known universe! If your sweetheart, lover, friend, child, or parent is not participating, and would like a cool volunteer's t-shirt and unending gratitude, contact the Race Director.
For Fun & Safety
The course is open to vehicle traffic so be extremely cautious. Many safety people protect participants; please be safe, have fun, and remember the vehicles are tougher runners.
Information about the area
We're located on Oregon's Adventure Coast, sheltered by undeveloped shoreline and surrounded by one of the largest estuaries in Oregon. Oystercatchers, egrets, herons, and many other birds stalk the mudflats of this estuary. Our costal community is home to a nationally acclaimed Art Museum, a fantastic microbrewery (7 Devils), many notable restaurants, a World Class Golf Resort (Bandon Dunes), several state and city parks, and endless opportunities for fishing, crabbing, and paddling.
Visitors can make the most of the season's warm (but not hot) sunny days and temperate evenings.
Come see what attracts so many runners to Oregon's Adventure Coast to 'Circle The Bay.'
Questions?