The 2021 Scholarship Application is now available.  It is open to all Coos County high school seniors or college students can apply.  The winner will receive a $1,000 scholarship.  Applications due April 1.
2019 Jennifer Turman Memorial Scholarship Essay, by Gabe Delgado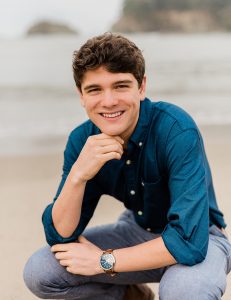 When I was younger, I always wanted to fit in with whatever was popular. Growing up being on a sports team was the thing to do. Naturally I began to get involved with the "popular" ball sports; basketball, baseball, soccer and football. Many of my friends were older and bigger than me. I began to feel left out when I wasn't selected for the "A" team. I wanted to find something that I could make my own. Something that would make me stand out. Something I would love.
My parents have always been active people. They started getting into running. I realized that maybe that could be my thing, running! My mom and dad became coaches on the Boys and Girls Club track team. My parents also joined the South Coast Running Club, where they would hold all sorts of running events all across town throughout the year. My dad one morning asked me if I'd like to come do one of the runs with him. We went to Bandon for the Bullards Run, and through that experience I got to meet all sorts of neat people who love to run. I've done the Firecracker Run almost every year. The kid's mile or 5k races at South Slough, Kentuck, Run of Two Cities, Mac's Run and the Turkey Trot. I fell in love with running and a community of people that share the same love as my own.
I began to discover just what running meant to me. I joined the cross country and track teams in middle school. In high school I've served as team captain the last two years on the cross team and been the event group leader (EGL) for distance in track as well. I've competed at both cross country and track State Championships and hallowed Hayward. Running has given me a platform to express who I am as an athlete. It has given me an opportunity to become a better teammate, a better leader, and most importantly a better person. Running has been, is, and will always be my joy. After a hard day, running gives me the chance to decompress a stressful day. Running taught me more about life than I could've ever imagined. It taught me how to never give up no matter how hard it gets, how to persevere in the tough moments and keep pushing through the pain. Most importantly running has taught me community. That special bond with teammates you get in the tough training and races. No matter who we are, where we come from, or where we're going, running unites those of us who love it. Local clubs like SCRC prove that at every event. That no matter what's happens in our lives, running brings our community together. To me, that's the most important thing that running offers.