1/2 Marathon, 15K, 4-Mile trail run, 1-Mile Beach Fun-run
Sunday, September 5, 2021,  Sunset Bay, Charleston, OR
9:30 – 1/2 Marathon
9:50 – 1-mile Fun Run
10:00 – 4 Mile and 15K
Register here.  Members, your discount will appear at check-out.
Save money by joining South Coast Running Club.
Note price increase for day-of-race registrants.  
Cost for Members:  5K and 10K – $15.00, Day of race – $20.00
Cost of Non-Members: 5K and 10K – $25.00, Day of race – $30.00
Students: $5.00.  Use the code Student2020 to register.  To avoid credit card charges, you will not be charged at on-line registration.  Please bring $5 (exact change appreciated) to registration!
Coaches, bringing a team?  We would love to accommodate you with special low pricing.  Please contact us to let us know you are coming.
We do not include T-shirts in the basic race entry in an effort to keep costs down (come on, this is the cheapest race you've entered since the 80's, right?) and because we know many of you already have a closet full of race T-shirts.  BUT, this is a truly awesome race, and you may want a quality, moisture wicking, t-shirt to subtly brag that you did it.   You can get a T-shirt for only $25 when you register by August 20.
Race Information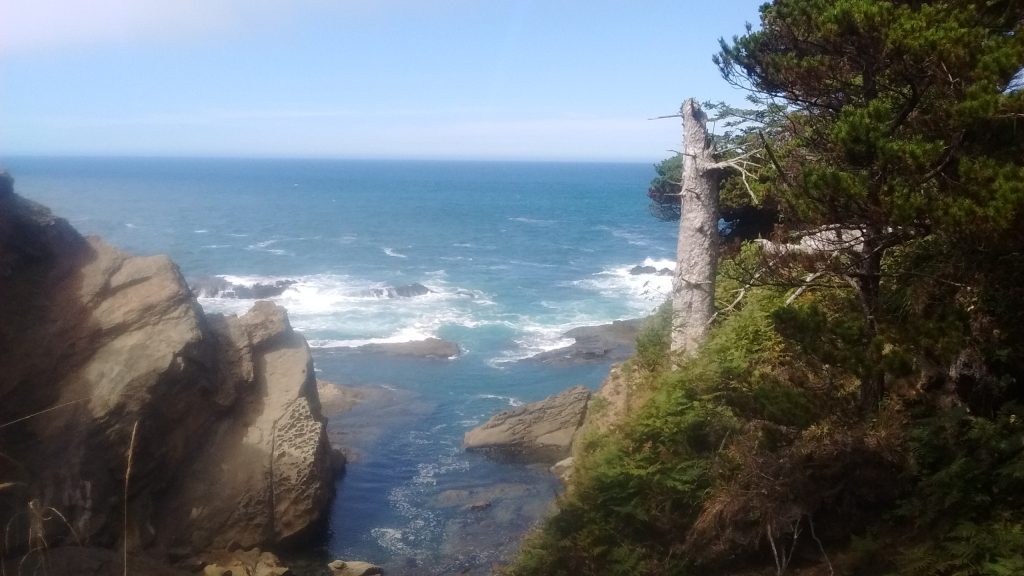 Race registration, start and finish at the yurt just south of Sunset Bay State Park, Charleston, Oregon.
This race is a hilly, scenic trail along the scenic Oregon Coast.  A very challenging course for the longer distances and the views will take what breath you have left away.  Seriously, this race has it all, killer hills through the woods, and an amazing flat cliff section where you'll see sea lions, rocks, the deep blue sea, and if you're very lucky, a passing whale.  Not to be missed, this is an amazing course at a give-away price.
Restrooms and water are located at the start/finish line. There are also restrooms at 4 miles for the 15 K and 1/2 Marathon participants. The course is open to traffic (while this is a trail run, we could not avoid roads altogether), so be alert.  This is a RRCA sanctioned event.  For safety, NO headphones, rollerblades, skateboards (hey, you're on trails, that's not even possible), bicycles, animals, or jogging strollers are allowed during the race.
There is no cell-phone service at Sunset Bay.
Ribbons to top three winners overall and in each age-group. There will also be tons of fabulous prizes donated by local businesses.
Why?
Proceeds from the event will be donated to the Pregnancy Resource Center in Coos Bay.
Questions?
Results
Thanks and congratulations to all of our participants.  We hope to see you again next year.  If you enjoyed it, bring a friend!
2018 Results